Navigating Texans Toward Health Coverage
This commentary originally appeared in the Austin American-Statesman.
A lot of Texans know a good thing when they see it. With less than two weeks to go until the Feb. 15 deadline, 1 million already have chosen a health care plan under the Affordable Care Act.
Many Texans who have signed up are grateful for their health plans and have the stories to prove it.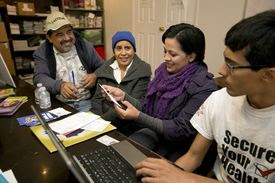 Alex, a young adult who works as a dishwasher at a pizzeria in Austin, signed up for health coverage last spring. Only two months after enrolling, Alex broke his right leg while skateboarding at a park.
"The first thing I was able to do when I went to the emergency room was hand them my health insurance card," Alex said.
After a three-day stay in the hospital, and orthopedic surgery, Alex's hospital bill came to $55,000. However, because Alex pays $32 a month in premiums for his silver-level health insurance plan, and has a $750 out-of-pocket maximum, he didn't have to worry about his staggering bill.
"I was so relieved," Alex said. "I can pay $750, but I can't pay $55,000."
Like Alex, 84 percent of Texans who have enrolled in the Health Insurance Marketplace receive financial assistance to help cover the costs of health coverage. On average, they pay just $72 per month for insurance. Some Texans have anxiously waited for years for this type of financial help to become available.
David, a house painter, and his wife Nora knew the marketplace was their only hope for getting health coverage that fit their budget. Nora had a prolapsed uterus and needed a hysterectomy, but because she was uninsured, she couldn't find a doctor who would operate.
"It felt like no one was going to help me get better," Nora said.
With the help of Insure Central Texas, a free enrollment resource offered by the organization Foundation Communities, David and Nora were able to sign up for low-cost silver plans. Nora had surgery in October and is free of the pain and discomfort she felt before.
"I have my wife back," David said. "It was hard to see her suffer every day, but everything is different now. I feel at peace."
As for David, this is the first time in his life he has health coverage. He plans to get a physical this year and keep better track of his cholesterol, which he couldn't afford to do before.
Since the fall of 2013, Insure Central Texas has helped enroll more than 9,000 individuals in health insurance plans. They have five enrollment centers where anyone can walk in and receive assistance.
Alex credits Insure Central Texas with helping him navigate the application process.
"They helped take me through the steps to get health insurance," Alex said. "I wouldn't have been able to do it on my own."
Resources like 2-1-1 and Healthcare.gov can direct consumers to different groups offering assistance with enrollment and plan selection.
The personal stories shared here aren't meaningful because they are singular, but because they could happen to anyone. By enrolling in coverage and encouraging others to do the same by the Feb. 15 deadline, we can ensure more people have peace of mind if they are in an accident or have a painful condition. Without a health care plan, these life events are much harder to bear. They no longer have to be, thanks to marketplace coverage.
(For more information on Insure Central Texas, a program of Foundation Communities, visit www.InsureCentralTexas.org or call 512-610-7963.)
Liz Moskowitz is communications coordinator for Texans Care for Children.