6 Things You Should Know as Health Insurance Marketplace Opens up Nov. 1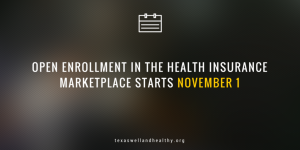 What a wonderful time of the year. The Texas heat is letting up. Baseball playoffs are in full swing. And open enrollment in the Health Insurance Marketplace starts on November 1.
If you need to get up to speed fast on the Marketplace, you've come to the right place. This blog is intended for Texans who:
Are insured but might want to look for a better or more affordable plan,
Are uninsured and want to get coverage (and avoid the growing fine for being uninsured),
Already have Marketplace insurance, or
Know someone in one of these situations.
Are you one of these Texans? Then here are 6 things you should know:
Know the key dates. The timeline is different this year. Anyone can sign up for a plan between November 1, 2015 and January 31, 2015. If you want your insurance to kick in on January 1, you need to be enrolled by December 15. (You can sign up outside of open enrollment if you have a life event like losing a job.)
There are affordable options. Four out of every five Texans who got insurance through the Marketplace last year received financial assistance to make it more affordable. Some Texans pay monthly premiums of $10 or $25 or even lower. This online calculator will help you estimate how much financial assistance you could receive to buy insurance.
Shop around – even if you already have Marketplace insurance. It pays to check out your options instead of simply renewing your current coverage. Plans can change from year to year as premiums, out-of-pocket costs, the provider directory, or drug coverage change. The plan that worked for you last year may not be the best deal this year. Additionally, updating your income and household information with the Marketplace will make sure you can keep getting your subsidies as long as your are eligible and reduce your likelihood of having to pay back subsidies on your taxes in 2017.
Look beyond the sticker price. Out-of-pocket costs (like deductibles, co-pays, and coinsurance) are also important when choosing coverage. If you pay a little more in your monthly premiums now, you could pay a lot less when you use your coverage later.
Consider the Silver Plan. Experts have pointed out that an individual with an income under $29,000, or a family of four with an income under $60,000 can get extra help paying out-of-pocket costs by choosing a Silver Plan.
Help is available. You can explore your options on your own on Healthcare.gov, but you can also get help over the phone by calling 1-800-318-2596, or better yet, sit down face to face with a knowledgeable volunteer in your own community. You can find assistance in your community here. Additional information is available at getcoveredamerica.org.