Get information about your 2014 coverage options:

---
Get activism & education tools: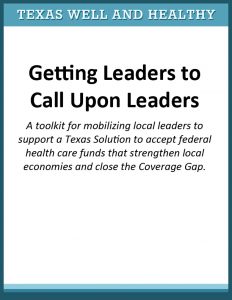 Videos on the Affordable Care Act and Texans: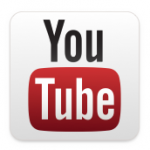 Publications and Videos
January 2015
Resources for Legislators
October 2014
Cover Texas Now Summit Resources & Materials
Updated: Statewide Supporter List for Closing the Coverage Gap
September 2014
Cover Texas Now 2015 Legislative Agenda
Letter to Legislators on Enrollment
Updated: Statewide Support for Closing the Coverage Gap
August 2014
6 Texas County Judges Joint Letter on Health Coverage Expansion
May 2014
 Health Care, the 2013 Legislature, and the Affordable Care Act: What Happened and What Work Remains?
 Texas Should Accept Federal Health Care Funds to Close the Coverage Gap 
September 2013
What Premiums will be in the Texas Health Insurance Marketplace and Not Fair to Compare: Health Coverage Before and After 2014
Texans can go to Healthcare.gov to see their coverage options. Our policy expert partners with the Center for Public Policy Priorities bring you the above blog post and policy paper to help explain some highlights. Learn about premiums for certain groups in different parts of the state and what is different in your insurance benefits prior to health reform vs. after implementation.
Updated: August 2013
Support for a Health Care Solution Across Texas  
An interactive map (link above) of cities, chambers of commerce, counties, and other organizations who support Texas accepting federal dollars to cover more than 1 million uninsured Texans.
April 2013
Other States and Medicaid Expansion

Find out about how other states have found solutions right for their state when it comes to covering more of their people.
Stories of Texans who Would Benefit from Medicaid Expansion
Members of the press can connect with us to get in touch with people around the state willing to share their health care stories.
March 2013
Getting Ready for March 5 Packet for Participants and Virtual Advocacy Day Toolkit 
March 5 is "Texas Medicaid Matters" Health Care Advocacy Day at the Capitol and online, too! Get ready for the big day with these toolkits that have everything you need to know to be part of the reason that Texas protects Medicaid for kids and families and covers 1.5 million uninsured Texas children and hard-working adults, starting next year. (Spanish: Por qué Tejas necesita la solución de Medicaid)
February 2013
Medicaid Expansion Resource Guide
An analysis of what we know about how Texas would fare if the state accepts funds to cover more people on Medicaid.
January 2013
Health Care Boot Camps: The Affordable Care Act and Medicaid
These presentations explain what Texans need to know  about the Affordable Care Act–including the essential health benefits (EHBs), the health insurance marketplace (also known as the Exchange), new industry regulations, consumer protections, and more–and Medicaid and the Medicaid expansion for 1.5 to 2 million uninsured Texans.

Getting Leaders to Call Upon Leaders: County Mobilization Toolkit
How to get your local leaders' help in getting the Texas Legislature to accept federal funds and close the Coverage Gap for 1 million Texans.
December 2012
Cover Texas Now Legislative Agenda
Our campaign works closely with a coalition of health care advocates who have set forth this agenda for the 83rd Texas Legislature.
Other Websites Worth Visiting
Official government agency sites:
Healthcare.gov is the Texas portal to the Health Insurance Marketplace, where you can learn about your coverage options and purchase a health plan that fits your budget. The site also offers lots of easy to understand information about what's in the Affordable Care Act and how it will impact you.
Your Texas Benefits.com is a Texas Health and Human Services Commission website where you can find out which benefits you can apply for, including health care benefits.
CHIPMedicaid.org is an official site where Texas families can enroll their children for public health care coverage at a cost of $50 or less per month. Find out if you qualify today!
Texas groups and campaigns:
Cover Texas Now is a coalition of consumer and faith-based organizations that want to see the state of Texas implement a sustainable health care system and provide quality affordable health coverage to its citizens, including through successful implementation of the Affordable Care Act.
Texas CHIP Coalition is a statewide coalition working for strong Children's Medicaid and CHIP programs in Texas. The coalition holds monthly meetings and has an active email list for advocates interested in a strong policy focus.
Tarrant County CHIP Coalition has a Healthy Children, Healthy Tomorrow blog dedicated to children who are uninsured or on Medicaid or CHIP in Texas. Blog posts break down the issues in ways that are easy to grasp and compelling, too.
National groups and campaigns:
KidsWell is a state and national campaign sponsored by Atlantic Philanthropies focused on successful health care reform implementation on behalf of children. The KidsWell campaign offers research and policy development; information about community organizing and civic engagement; and communications and advocacy on behalf of children's health coverage.
Getting to the Finish Line is a national effort sponsored by the David & Lucille Packard Foundation with technical assistance provided by the Georgetown Center on Children and Families and Spitfire Strategies to get more uninsured children covered. Georgetown CCF's Say Ahhh! blog offers running commentary on children's health policy.
Families USA is a national organization seeking to improve health care for consumers and promote high-quality, affordable care throughout the U.S.