Let's clear up a few misstatements about what happens to hospital emergency room visits after states expand Medicaid.
Studies from Oregon, California, and Arkansas show that their ER visits and expenditures declined after those states expanded Medicaid, although in some cases there was a brief, initial increase.
The Oregon report has been cited as evidence that ER visits increase. But here's the rest of the story, as reported in the Washington Post:
Officials out in Oregon don't dispute the results — but they do argue that the study doesn't offer a great picture of what's happening out there right now. The Science study looks at a 2008 expansion. A lot has changed in the past five years. In fact, over the past two years, Oregon has actually seen a decline in Medicaid emergency department visits this past year — and attributes that to big changes the state has made to how it delivers care to Medicaid patients. [Emphasis added.]
The California study, released just last week, explains there's a surge in medical visits when previously uninsured residents have the opportunity to address long-neglected health problems. After those initial visits, emergency rooms see a sharp decline in the number of visitors.
This PwC report on Arkansas notes, "In a statewide survey of 42 hospitals, the association found a 2% decline in emergency department visits. Patients that were admitted, however, increasingly had coverage. Arkansas hospitals saw about a 30% decline in uninsured patients."
Of course, reducing ER visits – and the pressure on local property taxes to cover unpaid ER bills for the uninsured – isn't the only reason Texas should expand Medicaid or develop a Texas alternative.
Accepting our share of the new federal health care funds would improve the health of Texas parents and workers. It would create over 200,000 jobs in three years and boost our economy. It would reduce our insurance premiums.
Other red states are negotiating health care plans with the federal government to use their share of the new funding. Texas should sit at the negotiating table, too.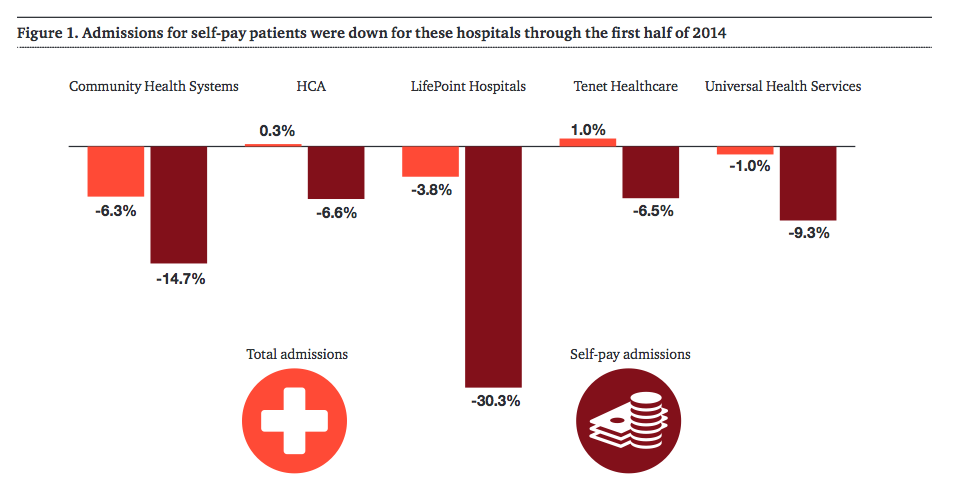 We work with a larger cohort of organizations under the coalition Cover Texas Now (CTN), which brings consumer and Faith-based organizations together to ensure Texas
implements a sustainable health care system and provides quality affordable health coverage to its citizens.
CTN recently finalized its legislative agenda for the 84th Texas Legislature, and it includes many strategies and initiatives related to the effective implementation of the Affordable Care Act in our state. Below are just a few of the key bullet points we want to highlight and will actively be working on during session. You can read the entire CTN legislative agenda here.
Close the Coverage Gap
Accept federal healthcare funds to ensure low-wage Texans have options for affordable healthcare coverage.  Currently, there are more than one million Texans who are in the Texas "Coverage Gap." They do not qualify for the current Medicaid option for adults which provides coverage only to parents up to 19% of the FPL ($313 a month for a family of 3) and make too little to receive financial assistance in the Marketplace.
The Coverage Gap can be closed by expanding traditional Medicaid. It can also be closed by negotiating with the federal government to develop a custom-built, private-coverage solution for our state, something that many conservative states have successfully negotiated.
Ensure all Texans have access to the robust information and assistance they need to gain, use, and maintain quality health insurance.
Ensure Texas has a diverse, stable, sufficient corps of paid and volunteer assisters to maximize Texans' participation in available health insurance programs.
Research indicates that a majority of Americans, including Texans, prefer or require in-person assistance to apply for and enroll in health insurance. Types of assisters include licensed health insurance agents, health and social service professionals, community-based volunteers, and others.  Lawmakers should affirm the important role assisters play in our state's health insurance system, and ensure that all assisters receive the support they need to perform their work.
When the ACA was signed into law, I was still in college, sitting in the basement of the student union half working on a group project, and half following the news. My friends and I were ecstatic to be a part of this momentous time in history. As young adults on the cusp of entering the "real world", we were also excited about the health coverage opportunities created for us: the option to remain on our parents insurance until 26, the choice to enter the health insurance marketplace, potential eligibility for Medicaid (if the state of residence expanded coverage), and granting former foster youth Medicaid eligibility until 26.
Now in 2014, we have even better news on young adults. As Joan Alker wrote about, the CDC recently released their NHIS data for the first quarter of 2014. The data show that the uninsured rate for young adults, ages 19-25, has declined from 26.5 percent in 2013 to 20.9 percent in the first quarter of 2014. While we cannot say for certain that the decline in the uninsured young adults is due to the ACA, there is no doubt it has played a significant role in coverage for this population. And though we've made strides within this population, the NHIS data also found that 14.9 percent of young adults were uninsured for more than a year, indicating there's still work to be done.
Health coverage is important for young adults, making it easier to access necessary health care. For example, a recent study published in Health Affairs found that young adults who remained on their parents' coverage, due to the ACA provision, received more mental health treatment when compared to a group of similar people ages 26-35 years. Young adults may also be on their way to starting their own family (as my Facebook newsfeed indicates), and as we've discussed at CCF covering parents helps kids.  And, at a time when many young adults are graduating with large amounts of student debt, health coverage can help prevent young people from sinking further into debt if a medical incident were to occur. Overall, the NHIS provides positive news for young adults, but work still remains to be done to cover the remaining uninsured.
Written by Sophia Duong. Cross-posted from Say Ahh! Children's Health Policy Blog.
National Hispanic Heritage Month is underway now and runs through Oct. 15. Here are three reasons that Hispanic Heritage Month makes a compelling time to talk about health insurance.
1) Texas had a higher-than-average rate of Latino participation in the first open enrollment period of the Affordable Care Act. It's great that outreach and enrollment groups here did a good job reaching Latino communities, but . . .
2) Latinos continue to be more likely to be uninsured. According to a recent report from the National Council of La Raza, Latinos are among the most likely Texans to be uninsured, with nearly 4 out of every 10 Texans from Latino communities lacking health coverage. About half of the total uninsured population in Texas comes from Latino communities.
3) Getting covered is a first step, but people also need to know how to use their coverage. Since Latinos make up a large portion of the newly insured, many would benefit from extra support that aims to help them use their health insurance effectively. Our national director wrote recently about the importance of health insurance literacy. And Enroll America is working with partners around the state and nationally this month to put on a series of Health and Education Resource Fairs to promote health insurance literacy.
We would welcome your involvement in our health literacy event series and other upcoming opportunities to connect with the uninsured in the communities where they live. Visit the events page of our website to learn what's happening near you.
*** Don't forget! Sept. 30 is the deadline for registering for this free Oct. 14 event sponsored by the Cover Texas Now Coalition. We won't be holding our monthly partner webinar in October, as we are hoping to see everyone on Oct. 14 at this special event in Austin instead.
Written by Mimi Garcia. Cross-posted from an Enroll America email.
On Tuesday, Septem
ber 16, the U.S. Census Bureau released annual estimates on health insurance coverage based on the Current Population Survey (CPS) and the American Community Survey. To better understand the difference between the two surveys, view our side-by-side comparison.
The new data released today are for 2013, and do not include the effects of the full implementation of the Affordable Care Act. Impact of the Affordable Care Act, such as the opening of the Health Insurance Marketplace and Medicaid and related coverage expansions, will be not reflected until next year's data release in September 2015.
While the Current Population Survey includes detailed information about health insurance coverage and has been used to show decades-long trends in the past, changes in this year's survey methodology mean that the 2013 CPS data cannot be compared to previous years. For year-to-year comparisons for Texas, the Census Bureau and the Center for Public Policy Priorities recommend using the American Community Survey (ACS) 1-year estimates. To encourage use of the ACS, which has reported health insurance estimates since 2008, the Census released limited state-level health insurance estimates from that survey today alongside the newly-revised CPS data report.
The Census Bureau will release the complete ACS data tables, including income and poverty, this Thursday, September 18.
Today's health insurance data release shows:
Texas continues to have the highest uninsured percentage in the U.S. (22.1% of Texans of all ages uninsured when surveyed). (Nevada and Florida are the next in line.) (ACS)
Texans with health coverage saw a tiny, but statistically significant, increase from 2012 to 2013, of less than one-half of one percent. The pre-2014 provisions of the Affordable Care Act have worked to stabilize private and public health coverage. (ACS)
Texas has the largest number (604,000) of uninsured children with family incomes below twice the poverty line (200% of the federal poverty level: potentially eligible for Medicaid or CHIP), and is second only to Nevada in the percentage of low-income uninsured children. (ACS)
The ACS survey estimates 8.3% of low-income Texas children are uninsured, compared to 5.1% in California, and 2.3% in New York.
CPS estimates for Texas show children (ages 0 to 18) across the full income spectrum are only half as likely to be uninsured as working age adults 19 to 64. This is almost entirely due to the availability of Medicaid and CHIP coverage for Texas children, but the lack of any parallel public insurance for those children's parents and other low-wage adults.
Texans remain far less likely to get covered through their own job, or a spouse or a parent's job, than the average American. (57.1% of Americans versus 50.7% of Texans). Only Arkansas, Florida, New Mexico, and Mississippi have lower rates of employer-sponsored insurance. (CPS)
The weakness of Texas' employer-sponsored coverage has been a big factor in Texas' last-place uninsured rate ranking, and creates a substantial demand for the new health insurance Marketplace where individuals and families can buy coverage with sliding-scale premium assistance.
CPPP will provide further analysis after the Census releases detailed poverty and income data on September 18. For more details please contact bernstein@cppp.org
Written by Anne Dunkelberg, Center for Public Policy Priorities. Cross-posted from Better Texas blog.
With the Senate State Affairs holding a hearing on the ACA today, 19 organizations sent the following letter to all Texas state legislators urging them to inform their constituents about their health insurance options under the ACA.
Open enrollment for the Marketplace starts two months from today, running from November 15 to February 15.
The full text of the letter is below. You can download the pdf here.
September 15, 2014
State Representatives and Senators
Texas Legislature
Austin, Texas
Dear Representatives and Senators,
As the Senate State Affairs Committee meets today to discuss the impact of the Affordable Care Act (ACA), we encourage you to inform your constituents about their available options to obtain health insurance, particularly when the open enrollment period for 2015 coverage in the Marketplace starts just two months from today.
Although Texas state government has not been a partner in promoting the new health insurance options, many Texas families have benefited from the Marketplace and other aspects of the ACA. During the first open enrollment period, which ended in April of this year, 734,000 Texans signed up for coverage through the federal health care marketplace. Eighty-four percent of those Texans received financial assistance to make their insurance policies more affordable.
More Texans will enjoy the health protections and financial stability of insurance if Texas leaders commit to public outreach regarding these new health coverage options. Key points to share with your constituents include the following:
- The next open enrollment period for the Marketplace will run from November 15, 2014 to February 15, 2015.
- Texans can obtain insurance through the Marketplace outside of the open enrollment period if they change jobs, have a baby, get married, or experience another event that qualifies for a Special Enrollment Period.
- Eligible children and pregnant women can sign up for insurance through the Children's Health Insurance Program (CHIP) or Medicaid at any time.
- Most Texans who purchase coverage through the Marketplace will qualify for financial assistance to make their insurance more affordable.
- Texans can access the Marketplace by visiting healthcare.gov or calling 1-800-318-2596.
- In-person assistance with enrollment is available in all major metro areas, and in many smaller cities and rural communities as well. Additional information is available to constituents through getcoveredamerica.org.
- Texas workers who do not receive insurance from their employers and have an annual income below $24,000 for a family of four still do not have any affordable insurance options. They are not eligible for premium subsidies through the Marketplace and the legislature has not developed a Texas plan to accept federal Medicaid funding for low-wage adults. These workers should contact their local clinics and county indigent programs to find out if they qualify for services.
We appreciate your consideration and any steps you can take to inform your constituents about their health insurance options.
Sincerely,
Simone Nichols-Segers
Government Activism Coordinator
National MS Society
Eileen Garcia
Chief Executive Officer
​Texans Care for Children
Blake Hutson
Senior Associate, Health Reform
Consumers Union
Laura Guerra-Cardus, M.D.
Associate Director
Children's Defense Fund-Texas
Bee Moorhead
Executive Director
Texas Interfaith Center for Public Policy/Texas Impact
Sara E. Smith, JD
State Director
Texas Public Interest Research Group
José Eduardo Sánchez
Acting Southern Director
Young Invincibles
Tod Marvin
President & CEO
Easter Seals Central Texas
Anne Dunkelberg
Associate Director
Center for Public Policy Priorities
Lucy Ramirez
Chief Executive Officer
Nuestra Clinica del Valle, Inc.
Sonia Troche, MBA
Texas Regional Director
National Council of La Raza
Miriam Nisenbaum
Executive Director
National Association of Social Workers – Texas Chapter
Ana R. DeFrates
Director, Texas Latina Advocacy Network (LAN) Policy & Advocacy
National Latina Institute for Reproductive Health

Phillip Martin
Deputy Director
Texas Research Institute
Ann Williams Cass
Executive Director
Proyecto Azteca
Liz James
Chief Executive Officer
Lesbian Health Initiative of Houston, Inc. (LHI)
Phylis Peters
Director
Proyecto Juan Diego
Ginny Goldman
Executive Director
Texas Organizing Project
Katy Caldwell
Executive Director
Legacy Community Health Services
Recently, CCF teamed up with the researchers at the Urban Institute to take a first look at how the Affordable Care Act is impacting the rate of uninsured children. The high level data indicates that, so far, there has been no detectable change nationally, although children's uninsured rates remains at historically low levels. But state Medicaid and CHIP programs come in different makes and models. So we thought we'd kick the tires and look under the hood to see what's going on.
The welcome mat lacks traction in 23 states that have not expanded Medicaid.  Coverage expansions typically turbo-boost enrollment of uninsured children who were already eligible through increased outreach and awareness of coverage options. But four of the six states with the largest numbers of uninsured children (the majority of whom are eligible but not enrolled) have not yet expanded Medicaid beyond the very poorest parents. The lack of Medicaid expansion in these states is stalling momentum on the children's coverage front.
Most Medicaid expansion states were already firing on all pistons. The majority of states (21 of 27) that expanded Medicaid have higher than national rates of eligible uninsured children enrolled in Medicaid or CHIP with a median participation rate of over 90 percent. Perhaps even more telling is that the median uninsured rate for children in these states is a low 4.5 percent. A combination of high participation of eligible children and a low uninsured rate means expansion states were already in the lead.
Building a new fleet of Medicaid eligibility systems. All states are taking advantage of substantial federal funding to replace their model T computer systems, some of which have been in use for more than 30 years. Under the best of circumstances, implementing a new high-functioning IT system is more like crafting a custom-designed racing machine rather than buying a new car off the lot. Doing so with a limited pit crew given the recession's depletion of state human resources has proven exceptionally difficult.
Getting the MAGI eligibility engine humming. The ACA brought about the most transformative changes to how Medicaid and CHIP programs operate in the history of these programs. Re-engineering your business practices while building new IT systems is doubly challenging.  And while ACA enactment might have been the call to "start your engines," states didn't get the green flag until federal regulations and guidance in implementing MAGI eligibility and new verification procedures were finalized many months later. Ultimately, realizing the vision of real-time, electronically verified eligibility will provide additional horsepower for enrollment and retention.
Backlogs of marketplace accounts transfers choked the systems. Creating consistent, error-free functionality to electronically transfer data between marketplaces and Medicaid/CHIP agencies proved especially difficult. A number of states continue to work through application backlogs that could boost enrollment in the near future and eventually free up resources to tune-up other processes.
Going flat at renewal. Annual eligibility renewals impact enrollment like a slow leak in a tire although eligible people who lose coverage at renewal usually reapply within a few weeks or months. In the new world of MAGI, at least the first round of renewals will be more complicated as states gather new eligibility data, including tax-filing status and access to minimum essential coverage. Although two-thirds of states delayed renewals to gain extra time, the impact of implementing MAGI renewals might be enough to make some tires go flat, at least temporarily.
Well-oiled states are making progress. There is good news. Colorado, Arkansas, and other states are reporting gains in children's coverage. And Florida, which has yet to expand Medicaid, has seen a surge in children's enrollment that many attribute in part to transitioning CHIP kids between 100 – 133% FPL to Medicaid, and thereby eliminating premiums which are a known barrier to coverage. But if the national uninsurance rate for children is flat and some states are making gains, this could mean that we are losing ground in other states where implementation challenges have made it difficult to enroll and retain coverage. For the better part of two decades, we've gained mileage as states pioneered improvements in children's coverage. Accelerating the adoption of the most efficient and effective practices across the nation by making the system more aerodynamic is a central goal of the ACA.
Running under the caution flag means the race will take more time. The race to the finish can't be completed in record time when systems aren't operating at optimal speed. When the ACA passed, many people wondered why implementation should take four years; looking in the rearview mirror puts the complexity of this transformation in perspective.
Ultimately, we are optimistic that further gains can and will be made in covering the nation's children. Dale Earnhardt once said, "The winner is not the one with the fastest car, it's the one who refuses to lose." We have found a way to cover 99 percent of seniors and we will continue to drive home the need to do no less for children. But to stay on track, we'll need not only well-tuned engines but also a full tank of gas. While the checkered flag may be in sight, extending CHIP funding beyond 2015 is critical to getting over the finish line.
Written by Tricia Brooks, Georgetown Center for Children and Families. Cross-posted from the Say Ahhh! Health Policy Blog.
It was a busy day for health care in a couple courtrooms today.
But Texans can rest assured that financial assistance is still available for the insurance they bought on healthcare.gov; their insurance hasn't been affected; and financial help should still be available to buy insurance when open enrollment for healthcare.gov starts again on November 15th.
So what happened?
Today the D.C. Circuit Court of Appeals ruled that the Affordable Care Act (ACA) does not authorize the financial subsidies that consumers have used to buy health insurance on healthcare.gov in Texas and other states that did not set up their own online health insurance marketplaces.
A couple hours later, the 4th Circuit Court of Appeals contradicted the earlier ruling by concluding in a separate case that the subsidies are perfectly legal.
The ACA, the health insurance that over 700,000 Texans bought through the federal Marketplace, and those financial subsidies all remain untouched as the case works its way through the appeals process.
Most observers expect the subsidies will be upheld as the case moves forward.
You can follow the blow-by-blow here.
And if you're thinking about getting health insurance on healthcare.gov when open enrollment starts again in November, you can calculate here just how much financial assistance you can receive to make sure your insurance policy is affordable.
 Written by Peter Clark, Texans Care for Children.
Expanding health care coverage in Texas could create over 200,000 new jobs, reduce property tax pressure, and lower premiums for taxpayers and businesses. 
Texans statewide stand to benefit economically and medically if the state legislature accepts federal health care funds to expand Medicaid — or adopts a Texas alternative that expands coverage — according to a new interactive tool and new report released this week.
"Health & Wealth County Checkup," the new interactive tool from the Center for Public Policy Priorities, shows the large number of Texans in each county who could gain health care coverage and benefit economically if Texas accepts federal health care funds or otherwise expands health care coverage in the state. Statewide over 1 million Texans who lack insurance and could gain coverage if Texas expanded Medicaid instead have no access to low-cost health coverage.
Significantly, the Health & Wealth County Checkup also shows new jobs, new local tax revenue, growth in personal income and other benefits stemming from health care expansion. In Harris County, for example, expanded health care could create more than 60,000 new jobs per year. The tool presents the most recent estimates from respected Texas and national experts, including the US Census, Kaiser Family Foundation, Texas Health and Human Services Commission, economist Dr. Ray Perryman, and former Texas Deputy Comptroller Billy Hamilton.
"Expanding health care coverage in Texas could create over 200,000 new jobs while reducing property tax pressure and lowering premiums for taxpayers and businesses," said Anne Dunkelberg, associate director of the Center for Public Policy Priorities. "Accepting federal health care funds to expand coverage means a healthier and wealthier Texas."
The accompanying report, titled "Health Care, the 2013 Legislature, and the Affordable Care Act," offers the first comprehensive reflection of how state-level decisions, actions, and omissions in health care intersect with the implementation of the Affordable Care Act in Texas. Methodist Healthcare Ministries of South Texas commissioned the report, which follows the recent surge in Affordable Care Act enrollments in Texas and offers a roadmap for the 2015 legislature to address health care in the state.
See what benefits the Health & Wealth County Checkup shows for your Texas county.
Read more about the new interactive tool in the Associated Press.
First released by Center for Public Policy Priorities.
A total of 734,000 Texans purchased health insurance through the federal Marketplace from October 1, 2013 to April 19, 2014, according to a report released today by the U.S. Department of Health and Human Services. Despite
state leaders' opposition to the Affordable Care Act (ACA), 439,000 Texans selected a private plan in March and April, compared to 295,000 prior to March 1.
The results show that the ACA is effectively providing Texans with affordable insurance but that more work is needed.
"Texas has made more progress on affordable health insurance in the last six months than in the last decade," said Stacey Pogue, Senior Policy Analyst at the Center for Public Policy Priorities, a member of the Texas Well and Healthy coalition. "Nonetheless, when we look at other states that took an 'all hands on deck approach' to helping people enroll, we know that Texas could do much more. Texas needs to get serious about making sure families have the insurance they need to stay healthy and financially stable. Too many Texans are still one illness or one accident away from going bankrupt."
Betsy Furler, a mother and speech therapist in Houston, is one of the eight million Americans who now has private insurance thanks to the ACA.
"After worrying about insurance for years, I was thrilled to buy coverage in the Marketplace for my whole family," said Ms. Furler. "My son is now insured, and our premiums are half of what they used to be. I no longer have to take a job just for the insurance, so I've been able to start my own small business."
BACKGROUND ON HEALTH CARE COVERAGE NUMBERS
Eight-four percent of Texans who signed up also received financial assistance, lowering their monthly costs.
Thirty percent of Texans who selected insurance plans through the Marketplace were 18-34 years old.
Approximately six million Texans were uninsured in 2012. With 25 percent of the state uninsured, Texas has the worst rate in the nation.
About half of the state's one million uninsured children and teens are eligible for Medicaid or CHIP.
More than one million Texas adults are in the Coverage Gap. Their jobs do not provide insurance, but their income is not high enough to qualify for assistance in the Marketplace. The Texas legislature can provide insurance to Texans in the Coverage Gap by accepting federal health care funds.
BACKGROUND ON CONTINUING ENROLLMENT
Individuals who have a "qualifying life event," such as the loss of a job or birth of a child, may apply for insurance at any time. The next open enrollment period starts again on November 15 for coverage beginning on January 1, 2015.
Pregnant women, as well as children and teens from low- to middle-income families, may enroll year round in Medicaid or the Children's Health Insurance Program (CHIP). There is no deadline to enroll in those programs.