A lot happened under the radar last week in the debate about Texas developing an alternative to Medicaid expansion. Let's take a look:
- The Texas Association of Business released its new legislative priorities, including: "Medicaid expansion. Support a private insurance model that includes copays and a sliding scale in order to reduce the number of uninsured Texans."
- A health care committee appointed by Governor Perry recommended that Texas negotiate a plan with the feds to accept our share of the new Medicaid funding to make sure uninsured workers have an insurance option.
- The Texas Hospital Association rolled out its proposed Texas Way, a private market-based alternative to Medicaid expansion.
- The Fort Worth Star-Telegram and Houston Chronicle both called on state leaders to consider options for accepting new federal Medicaid funding.
- On Veterans Day, a Texas vet called for state leaders to accept federal health funds to close the coverage gap for veterans and other Texans.
- New reports from Georgetown found that nearly 1 million Texas kids are uninsured and over two million Hispanic children nationwide are uninsured. By accepting closing the coverage gap for uninsured parents, Texas can connect more eligible but uninsured kids with CHIP and Children's Medicaid.
- With open enrollment for healthcare.gov starting again, more Texans with incomes below the poverty line ($24,000 for a family of four) are discovering that they do not qualify for financial assistance in the federal Marketplace and that the solution intended for them — state use of new Medicaid funding for low-wage workers — has not been implemented by Texas leaders.
With the elections behind us, and anti-Obamacare red states such as Arkansas, Wyoming, Utah and others either implementing or developing their own alternatives to Medicaid expansion, it's time for Texas leaders to get to work too.
As we near the launch of the second Marketplace enrollment period this Saturday, uninsured consumers are gearing up to Stop, Shop, and Enroll. But what if you already have 2014 Marketplace coverage—do you also need to act during open enrollment?
In general, most people with existing 2014 Marketplace coverage will be automatically re-enrolled in their existing plan or a similar plan. Although automatically renewing is the easier option, the plan you chose last year may not be the best one for 2015. Texans will have more choices in the Marketplace and might be able to save money when choosing a new health plan that offers similar health care benefits and coverage. To ensure you are getting the best plan you can afford and the correct level of financial help, you should shop around in the health insurance marketplace and submit up-to-date income information by December 15, 2014.
Here are the basics of renewing Marketplace coverage and why it makes sense to re-evaluate your options each year.
Renew by December 15 for Coverage on January 1
All coverage in 2014 Marketplace plans will end on December 31, 2014. This is true even if your coverage started after January 1, 2014. To continue your Marketplace coverage, you have two options—renew your current plan or change to a new plan for 2015. If you do not make any change to your coverage by December 15, 2014, most people will be automatically re-enrolled in the same health plan they had for 2014 with a continuation of the same subsidy amount from 2014. If your insurer is not offering your existing plan in 2015, you'll likely be auto-enrolled in a similar plan.
Watch for Renewal Notices
You'll get two important notices related to renewal – one from your insurance company and one from the Marketplace. The letter from your insurance company will describe any plan changes for 2015 and contain your plan's 14-digit plan ID number that you can use to re-enroll in your existing coverage. The letter from the Marketplace will let you know whether the default, if auto-enrolled, is the same subsidy you had in 2014 or whether you have to update your Marketplace application to maintain your financial assistance.
Update Financial Information to Maximize Savings and Subsidies
Regardless of whether auto-enrollment is an option, it is a good idea to update your financial information with the Marketplace and compare plan choices. If you don't take these steps, you may not get a plan that meets your needs or the maximum savings available to you. Many things can change from year to year affecting your Marketplace decisions:
Your current plan may make changes to your coverage or provider network. For example, the premium or deductible for your current coverage could go up for 2015.
New plans could come into the Marketplace that are a better fit for you (4 new insurers are entering the Texas Marketplace for 2015).
You financial or family situation could change, affecting your subsidy level. You could qualify for additional financial assistance if you earn less or had a baby, for example. You could also qualify for less financial help and have to pay some of the subsidies back at tax time if you don't keep your information on file with the Marketplace updated.
Even if you are automatically re-enrolled in your 2014 plan because you don't take action by December 15, 2014, you can still change to a new 2015 plan through the end of open enrollment on February 15, 2015.
Other Timeline Dates to Remember
If you enroll in a new plan by January 15, your coverage will start on February 1.
If you enroll in a new plan by February 15, your coverage will start on March 1.
If you switch plans between January 1 and February 15, any amounts you've paid toward your deductible and out-of-pocket maximum under the initial plan do not necessarily apply to the new plan. Because of this, it is best to make needed health plan changes by December 15 so your new 2015 coverage can take effect on January 1.
For more information on renewal steps, see the Marketplace's quick list of 5 Steps to Staying Covered through the Marketplace (PDF).
For help evaluating whether renewing your current coverage is the best option for you in 2015, see Families USA's  Seven Questions To Ask When Buying or Renewing Coverage in the Marketplace.
Written by Stacey Pogue, Center for Public Policy Priorities. Cross-posted from Better Texas blog.

Two big things just happened related to the Health Insurance Marketplace. I'll give you the good news first.
The Health Insurance Marketplace at HealthCare.gov opened up for window shopping – you can see the plans and prices that will be available to you for 2015 coverage. This gives you several extra days to identify your needs and find plans that fit your budget. You can also find out if you're eligible for financial help to pay for insurance, which can lower your costs considerably.
Open enrollment starts this Saturday, November 15, and signing up by December 15 means your insurance will kick in on January 1, 2015. You can find the timeline for enrollment here.
Now for the news that could turn out to be bad…
Friday afternoon the U.S. Supreme Court granted a hearing for King v. Burwell, a lawsuit attempting to eliminate financial assistance to low- and middle-income enrollees who purchase insurance in the federal Marketplace (HealthCare.gov).
As we've discussed previously, this financial assistance is essential for connecting Texans to insurance that fits their budgets. Subsidies helped 84% of all Texas Marketplace enrollees – over 616,000 people – sign up for coverage during 2014. And financial assistance will help more Texans enroll in coverage for 2015.
The Supreme Court will probably hear arguments early in 2015 and issue a ruling in June. Until then, here are the important things to keep in mind:
Open enrollment – which starts this Saturday – will not be affected in any way by the U.S. Supreme Court announcement.
People who provide application assistance to help consumers enroll should feel confident that consumers' access to financial help is safe during the current enrollment period.
If the Court ultimately decides to limit financial help to millions of Americans and hundreds of thousands of Texas, consumers will not be required to pay back those tax credits.
Hundreds of thousands of Texans are getting Marketplace renewal notices right now. Our next blog post will let you know what you need to do to renew your coverage. Stay tuned.
Written by Stacey Pogue, Center for Public Policy Priorities. Cross-posted from Better Texas blog.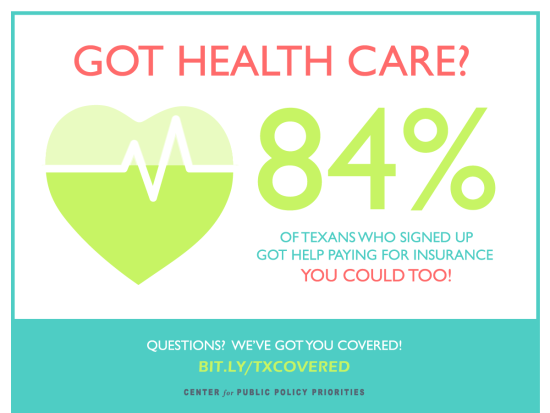 Getting affordable health insurance can make a world of difference to children, parents, and other Texans. It can mean a child gets back to school fast when he's sick, a Texas women gets healthy before she's pregnant, and a family
avoids the crushing stress of going bankrupt from medical bills.
Starting November 15, more Texans will be able to get insured as the federal health care Marketplace begins its second open enrollment (OE2). During open enrollment, anyone who is uninsured or has insurance that doesn't meet their budget or needs can explore their options and buy coverage in the Marketplace. (Outside of open enrollment, you can only get Marketplace insurance if you change jobs, have a baby, or experience another qualifying "life event," although CHIP and Medicaid for kids, people with disabilities, seniors, and pregnant women is available year-round.)
Nine out of 10 uninsured people are unaware of the next open enrollment period, so we need all hands on deck to help spread the word.
Here are three things everyone should know about OE2:
1. Basic information, including dates. OE2 will run from November 15 to February 15, half the duration of the last one. Here's more on the timelines. General information is available at getcoveredamerica.org.
2. It's affordable. Uninsured Americans frequently cited the perceived costs of ACA insurance as a top reason for not signing up. They should know that over 80% of Texans who got insurance through the Marketplace last time received financial assistance. More details on financial assistance are available here.
3. One-on-one, face-to-face help is available. You can look here for assistance locations in your  community. Of course Texans can also explore their options and buy insurance through healthcare.gov, cuidadodesalud.gov, or 1-800-318-2596.
The new Health Insurance Marketplace provides a useful way for people to find and compare quality health plans. But the ability to shop for plans easily isn't what really makes the Marketplace work for families. The Affordable Care Act instituted, for the first time, a broad system to help low- to middle-income families pay for the cost of private health insurance. The financial help to reduce the cost of insurance makes the Marketplace and the coverage through it meaningful for many of Texas' uninsured families.
84 percent of Texans who enrolled in the Marketplace during the first open enrollment period received financial help and, on average, they pay just $72 per month for insurance. That's less than a monthly cable bill. Low-income families can qualify for very low-cost premiums for good plans. During the last enrollment period, I helped several low-income Texans enroll in good coverage with premiums under $1 per month.
The available financial help is meaningful, and it is key to getting Texans covered. But many of the uninsured simply don't know about it. A recent poll found that 53 percent of uninsured Americans don't know about the financial help in the Marketplace. The uninsured who didn't try shopping in the Marketplace for 2014 coverage were much less likely to know that financial assistance was available than those who enrolled. In fact, the perception that insurance would be unaffordable was the primary barrier that kept people from actually looking. But the facts tell a different story – most enrollees get financial help and report that their premiums fit their budgets.
Texans may qualify for financial help if they earn between $11,600 and $47,700 per year for an individual, or $23,800 to $95,400 a year for a family of four. It is easy to get an estimate of your costs and savings using the Get Covered America Calculator. With the 2015 enrollment period starting on November 15, 2014, now is the time to plan and learn about the financial help available.
We knew going into the first open enrollment period that about 2 million Texans were eligible for Marketplace coverage with financial assistance. We know now that about 615,000 Texans enrolled in 2014 coverage with financial help. More than 1 million Texans likely remain eligible for low-cost Marketplace coverage but are uninsured. Ensuring they know about available financial help is a necessary step to connecting them to coverage. In-person enrollment assistance is one of the most effective ways to sign up for coverage and learn about financial help.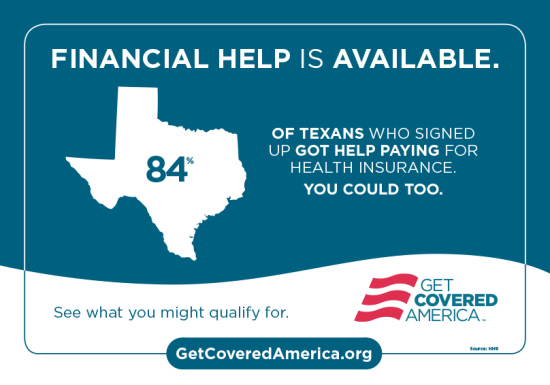 Millions of uninsured Texans may be eligible for affordable coverage options in the new Health Insurance Marketplace, but too many don't know about their coverage options or how to enroll. This is one reason why in-person enrollment assistance is critical.
In-person assistance is incredibly effective, and research done during the first open enrollment period shows us that people who got in-person assistance were twice as likely to successfully enroll than people who tried online on their own. What's more, enrollees report high satisfaction rates with in-person enrollment assistance. More than 90% of Texans helped by in-person assisters reported in June (after the close of open enrollment) that the assistance received was helpful, while only 60-70% reported that the website or call center were helpful. In-person assistance was especially key for certain communities. For example, Latinos and African Americans were 43% more likely to seek out in-person enrollment assistance than their white counterparts.
Three of four people who are newly eligible for coverage under the Affordable Care Act (ACA) indicate they'd like in-person assistance to help them enroll. That isn't surprising – health insurance is confusing even for people who have had it continuously and the process to enroll through the Marketplace is still relatively new to most people.
Different Types of In-Person Enrollment Assistance
In general, there are three broad categories of in-person enrollment assistance for the Marketplace: Navigators, Certified Application Counselors, and health insurance agents/brokers. Navigators are trained, certified, and grant-funded by the Marketplace to provide impartial and accurate outreach and enrollment assistance. Certified Application Counselors (CACs) also receive training and certification through the Marketplace, but other than CACs at Community Health Centers, their work is not federally-funded. Enrollment assistance by CACs is available through Community Health Centers, hospitals, clinics, local governments, and community groups. Health insurance agents and brokers are licensed insurance professionals who can often help people and businesses enroll in the Marketplace or obtain insurance outside of the Marketplace.
How to Find In-Person Assistance
The Marketplace can direct you to local, in-person assistance through the toll-free phone line, 1-800-318-2596, or LocalHelp.Healthcare.gov. Get Covered America also has a helpful online locator, available at www.getcoveredamerica.org/locator. The Healthcare.gov phone/online in-person assistance locator allows people to identify services in languages other than English. The Get Covered America locator has a helpful mapping feature.
Take Action to Become an In-Person Assister
Demand for community-based, in-person enrollment assistance in Texas often outstripped supply during the 2013 enrollment period. Organizations and individuals who'd like to help their community members enroll can do so by becoming Certified Application Counselors. Enroll America has a great CAC Organization Toolkit available to guide you through the process, and they are working to match individuals interested in volunteering as a CAC with organizations providing in-person enrollment assistance. If you would like to speak with someone from Enroll America about becoming a CAC organization or individual CAC, email CACinfo@EnrollAmerica.org. Staff at CPPP served as volunteer CACs during the last open enrollment period through Insure Central Texas, and I can attest that is was an amazingly rewarding and educational experience.
Written by Stacey Pogue, Center for Public Policy Priorities. Cross-posted from Better Texas blog.
If you plan to look for new coverage or renew existing coverage in the Health Insurance Marketplace at Healthcare.gov, you'll want to keep a couple of key dates in mind.
November 15, 2014 – February 15, 2015 = Open Enrollment in the Marketplace
Open enrollment is the time of the year when people can enroll in plans in the Health Insurance Marketplace. Open enrollment will last for 3 months starting on November 15, 2014, the first day you can apply for 2015 coverage.
You cannot enroll outside of open enrollment unless you qualify for a special enrollment period due to life changes like moving, marriage, divorce, child birth, or the loss of other health insurance coverage.
(Note: The enrollment period is NOT limited for Medicaid or CHIP – you can apply at any time.  Also, small businesses with 50 or fewer employees can enroll in the SHOP Marketplace at any time.)
December 15, 2014 – Enrollment/Renewal Deadline for Coverage Effective January 1, 2015
December 15, 2014 is the last day to enroll in new coverage that will start on January 1, 2015.  This applies to people enrolling for the first time through the Marketplace, and to people who want to change plans for 2015.
If you have existing Marketplace coverage and cannot auto renew your coverage, you must take action either to renew your coverage or enroll in an alternate plan by December 15, 2014 to avoid any gaps in coverage. All 2014 Marketplace coverage ends on December 31, 2014, regardless of when you enrolled. (If you have an existing plan you will likely have the option to auto-renew. If you do not, you will receive a notice from the Marketplace with instructions. A future blog post will explain the ins and outs of renewal.)
If you miss the December 15, 2014 deadline for coverage starting January 1, you can still enroll for coverage starting later. Enroll by January 15 for coverage that starts February 1. Enroll by February 15 for coverage starting March 1.
December 31, 2014 – All Existing 2014 Marketplace Coverage Ends, unless you are automatically renewed in the same or a similar plan
January 1, 2015 – First Day 2015 Coverage Can Start
Your Marketplace coverage will take effect on January 1, 2015 if you enrolled in new coverage by December 15, 2014 or were automatically renewed in your existing 2014 coverage.
February 15, 2015 – Last Day for 2015 Marketplace Open Enrollment
This is the final day to enroll in 2015 coverage. If you miss this deadline, you'll only be able to enroll in Marketplace coverage mid-year if life changes like moving, getting married, or losing other coverage make you eligible for a special enrollment period.
Watch for more posts in the Countdown to Coverage series, tagged with Countdown to Coverage 2014.
Written by Stacey Pogue, Center for Public Policy Priorities. Cross-posted from Better Texas blog.
Let's clear up a few misstatements about what happens to hospital emergency room visits after states expand Medicaid.
Studies from Oregon, California, and Arkansas show that their ER visits and expenditures declined after those states expanded Medicaid, although in some cases there was a brief, initial increase.
The Oregon report has been cited as evidence that ER visits increase. But here's the rest of the story, as reported in the Washington Post:
Officials out in Oregon don't dispute the results — but they do argue that the study doesn't offer a great picture of what's happening out there right now. The Science study looks at a 2008 expansion. A lot has changed in the past five years. In fact, over the past two years, Oregon has actually seen a decline in Medicaid emergency department visits this past year — and attributes that to big changes the state has made to how it delivers care to Medicaid patients. [Emphasis added.]
The California study, released just last week, explains there's a surge in medical visits when previously uninsured residents have the opportunity to address long-neglected health problems. After those initial visits, emergency rooms see a sharp decline in the number of visitors.
This PwC report on Arkansas notes, "In a statewide survey of 42 hospitals, the association found a 2% decline in emergency department visits. Patients that were admitted, however, increasingly had coverage. Arkansas hospitals saw about a 30% decline in uninsured patients."
Of course, reducing ER visits – and the pressure on local property taxes to cover unpaid ER bills for the uninsured – isn't the only reason Texas should expand Medicaid or develop a Texas alternative.
Accepting our share of the new federal health care funds would improve the health of Texas parents and workers. It would create over 200,000 jobs in three years and boost our economy. It would reduce our insurance premiums.
Other red states are negotiating health care plans with the federal government to use their share of the new funding. Texas should sit at the negotiating table, too.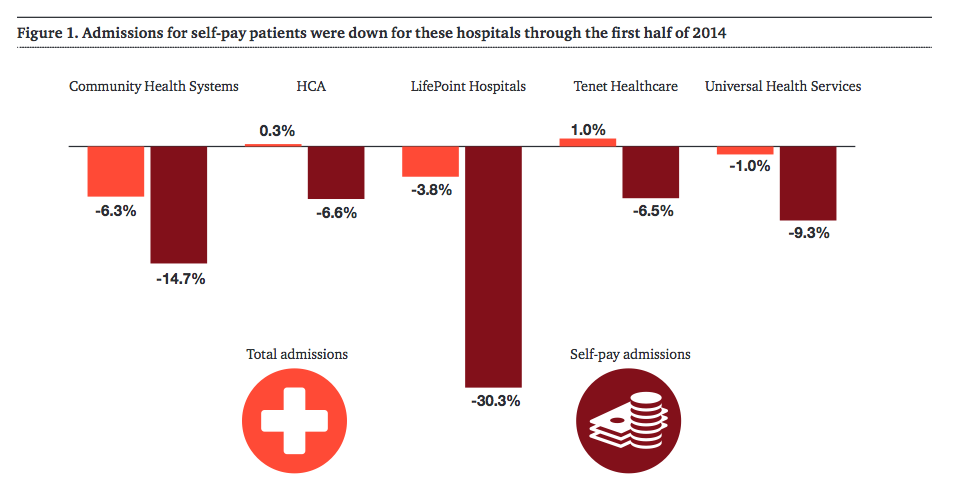 Thank you to everyone who came out to our successful Cover Texas Now gathering last month. Whether you were able to attend or not, check out all the key resources and materials from the gathering:
Bit.ly/CoverTexasNow

When the ACA was signed into law, I was still in college, sitting in the basement of the student union half working on a group project, and half following the news. My friends and I were ecstatic to be a part of this momentous time in history. As young adults on the cusp of entering the "real world", we were also excited about the health coverage opportunities created for us: the option to remain on our parents insurance until 26, the choice to enter the health insurance marketplace, potential eligibility for Medicaid (if the state of residence expanded coverage), and granting former foster youth Medicaid eligibility until 26.
Now in 2014, we have even better news on young adults. As Joan Alker wrote about, the CDC recently released their NHIS data for the first quarter of 2014. The data show that the uninsured rate for young adults, ages 19-25, has declined from 26.5 percent in 2013 to 20.9 percent in the first quarter of 2014. While we cannot say for certain that the decline in the uninsured young adults is due to the ACA, there is no doubt it has played a significant role in coverage for this population. And though we've made strides within this population, the NHIS data also found that 14.9 percent of young adults were uninsured for more than a year, indicating there's still work to be done.
Health coverage is important for young adults, making it easier to access necessary health care. For example, a recent study published in Health Affairs found that young adults who remained on their parents' coverage, due to the ACA provision, received more mental health treatment when compared to a group of similar people ages 26-35 years. Young adults may also be on their way to starting their own family (as my Facebook newsfeed indicates), and as we've discussed at CCF covering parents helps kids.  And, at a time when many young adults are graduating with large amounts of student debt, health coverage can help prevent young people from sinking further into debt if a medical incident were to occur. Overall, the NHIS provides positive news for young adults, but work still remains to be done to cover the remaining uninsured.
Written by Sophia Duong. Cross-posted from Say Ahh! Children's Health Policy Blog.