Let's clear up a few misstatements about what happens to hospital emergency room visits after states expand Medicaid.
Studies from Oregon, California, and Arkansas show that their ER visits and expenditures declined after those states expanded Medicaid, although in some cases there was a brief, initial increase.
The Oregon report has been cited as evidence that ER visits increase. But here's the rest of the story, as reported in the Washington Post:
Officials out in Oregon don't dispute the results — but they do argue that the study doesn't offer a great picture of what's happening out there right now. The Science study looks at a 2008 expansion. A lot has changed in the past five years. In fact, over the past two years, Oregon has actually seen a decline in Medicaid emergency department visits this past year — and attributes that to big changes the state has made to how it delivers care to Medicaid patients. [Emphasis added.]
The California study, released just last week, explains there's a surge in medical visits when previously uninsured residents have the opportunity to address long-neglected health problems. After those initial visits, emergency rooms see a sharp decline in the number of visitors.
This PwC report on Arkansas notes, "In a statewide survey of 42 hospitals, the association found a 2% decline in emergency department visits. Patients that were admitted, however, increasingly had coverage. Arkansas hospitals saw about a 30% decline in uninsured patients."
Of course, reducing ER visits – and the pressure on local property taxes to cover unpaid ER bills for the uninsured – isn't the only reason Texas should expand Medicaid or develop a Texas alternative.
Accepting our share of the new federal health care funds would improve the health of Texas parents and workers. It would create over 200,000 jobs in three years and boost our economy. It would reduce our insurance premiums.
Other red states are negotiating health care plans with the federal government to use their share of the new funding. Texas should sit at the negotiating table, too.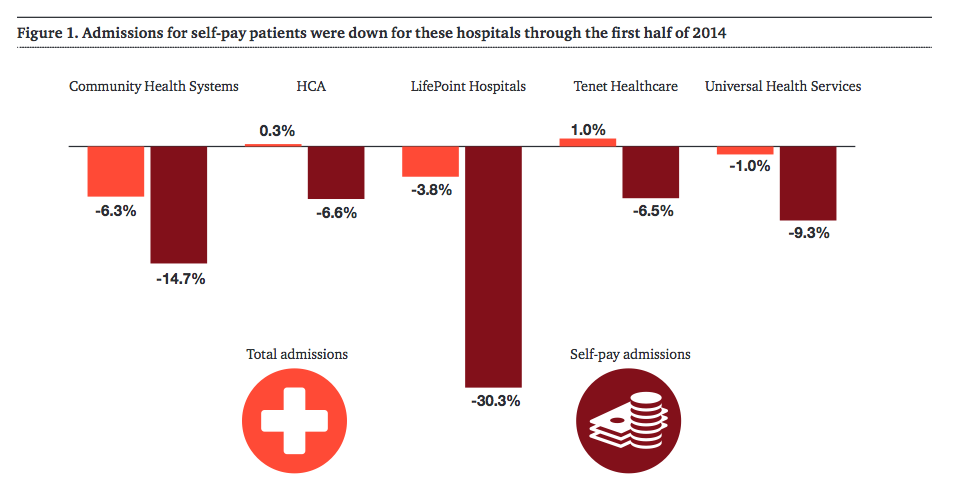 When the ACA was signed into law, I was still in college, sitting in the basement of the student union half working on a group project, and half following the news. My friends and I were ecstatic to be a part of this momentous time in history. As young adults on the cusp of entering the "real world", we were also excited about the health coverage opportunities created for us: the option to remain on our parents insurance until 26, the choice to enter the health insurance marketplace, potential eligibility for Medicaid (if the state of residence expanded coverage), and granting former foster youth Medicaid eligibility until 26.
Now in 2014, we have even better news on young adults. As Joan Alker wrote about, the CDC recently released their NHIS data for the first quarter of 2014. The data show that the uninsured rate for young adults, ages 19-25, has declined from 26.5 percent in 2013 to 20.9 percent in the first quarter of 2014. While we cannot say for certain that the decline in the uninsured young adults is due to the ACA, there is no doubt it has played a significant role in coverage for this population. And though we've made strides within this population, the NHIS data also found that 14.9 percent of young adults were uninsured for more than a year, indicating there's still work to be done.
Health coverage is important for young adults, making it easier to access necessary health care. For example, a recent study published in Health Affairs found that young adults who remained on their parents' coverage, due to the ACA provision, received more mental health treatment when compared to a group of similar people ages 26-35 years. Young adults may also be on their way to starting their own family (as my Facebook newsfeed indicates), and as we've discussed at CCF covering parents helps kids.  And, at a time when many young adults are graduating with large amounts of student debt, health coverage can help prevent young people from sinking further into debt if a medical incident were to occur. Overall, the NHIS provides positive news for young adults, but work still remains to be done to cover the remaining uninsured.
Written by Sophia Duong. Cross-posted from Say Ahh! Children's Health Policy Blog.
National Hispanic Heritage Month is underway now and runs through Oct. 15. Here are three reasons that Hispanic Heritage Month makes a compelling time to talk about health insurance.
1) Texas had a higher-than-average rate of Latino participation in the first open enrollment period of the Affordable Care Act. It's great that outreach and enrollment groups here did a good job reaching Latino communities, but . . .
2) Latinos continue to be more likely to be uninsured. According to a recent report from the National Council of La Raza, Latinos are among the most likely Texans to be uninsured, with nearly 4 out of every 10 Texans from Latino communities lacking health coverage. About half of the total uninsured population in Texas comes from Latino communities.
3) Getting covered is a first step, but people also need to know how to use their coverage. Since Latinos make up a large portion of the newly insured, many would benefit from extra support that aims to help them use their health insurance effectively. Our national director wrote recently about the importance of health insurance literacy. And Enroll America is working with partners around the state and nationally this month to put on a series of Health and Education Resource Fairs to promote health insurance literacy.
We would welcome your involvement in our health literacy event series and other upcoming opportunities to connect with the uninsured in the communities where they live. Visit the events page of our website to learn what's happening near you.
*** Don't forget! Sept. 30 is the deadline for registering for this free Oct. 14 event sponsored by the Cover Texas Now Coalition. We won't be holding our monthly partner webinar in October, as we are hoping to see everyone on Oct. 14 at this special event in Austin instead.
Written by Mimi Garcia. Cross-posted from an Enroll America email.
On Tuesday, Septem
ber 16, the U.S. Census Bureau released annual estimates on health insurance coverage based on the Current Population Survey (CPS) and the American Community Survey. To better understand the difference between the two surveys, view our side-by-side comparison.
The new data released today are for 2013, and do not include the effects of the full implementation of the Affordable Care Act. Impact of the Affordable Care Act, such as the opening of the Health Insurance Marketplace and Medicaid and related coverage expansions, will be not reflected until next year's data release in September 2015.
While the Current Population Survey includes detailed information about health insurance coverage and has been used to show decades-long trends in the past, changes in this year's survey methodology mean that the 2013 CPS data cannot be compared to previous years. For year-to-year comparisons for Texas, the Census Bureau and the Center for Public Policy Priorities recommend using the American Community Survey (ACS) 1-year estimates. To encourage use of the ACS, which has reported health insurance estimates since 2008, the Census released limited state-level health insurance estimates from that survey today alongside the newly-revised CPS data report.
The Census Bureau will release the complete ACS data tables, including income and poverty, this Thursday, September 18.
Today's health insurance data release shows:
Texas continues to have the highest uninsured percentage in the U.S. (22.1% of Texans of all ages uninsured when surveyed). (Nevada and Florida are the next in line.) (ACS)
Texans with health coverage saw a tiny, but statistically significant, increase from 2012 to 2013, of less than one-half of one percent. The pre-2014 provisions of the Affordable Care Act have worked to stabilize private and public health coverage. (ACS)
Texas has the largest number (604,000) of uninsured children with family incomes below twice the poverty line (200% of the federal poverty level: potentially eligible for Medicaid or CHIP), and is second only to Nevada in the percentage of low-income uninsured children. (ACS)
The ACS survey estimates 8.3% of low-income Texas children are uninsured, compared to 5.1% in California, and 2.3% in New York.
CPS estimates for Texas show children (ages 0 to 18) across the full income spectrum are only half as likely to be uninsured as working age adults 19 to 64. This is almost entirely due to the availability of Medicaid and CHIP coverage for Texas children, but the lack of any parallel public insurance for those children's parents and other low-wage adults.
Texans remain far less likely to get covered through their own job, or a spouse or a parent's job, than the average American. (57.1% of Americans versus 50.7% of Texans). Only Arkansas, Florida, New Mexico, and Mississippi have lower rates of employer-sponsored insurance. (CPS)
The weakness of Texas' employer-sponsored coverage has been a big factor in Texas' last-place uninsured rate ranking, and creates a substantial demand for the new health insurance Marketplace where individuals and families can buy coverage with sliding-scale premium assistance.
CPPP will provide further analysis after the Census releases detailed poverty and income data on September 18. For more details please contact bernstein@cppp.org
Written by Anne Dunkelberg, Center for Public Policy Priorities. Cross-posted from Better Texas blog.
With the Senate State Affairs holding a hearing on the ACA today, 19 organizations sent the following letter to all Texas state legislators urging them to inform their constituents about their health insurance options under the ACA.
Open enrollment for the Marketplace starts two months from today, running from November 15 to February 15.
The full text of the letter is below. You can download the pdf here.
September 15, 2014
State Representatives and Senators
Texas Legislature
Austin, Texas
Dear Representatives and Senators,
As the Senate State Affairs Committee meets today to discuss the impact of the Affordable Care Act (ACA), we encourage you to inform your constituents about their available options to obtain health insurance, particularly when the open enrollment period for 2015 coverage in the Marketplace starts just two months from today.
Although Texas state government has not been a partner in promoting the new health insurance options, many Texas families have benefited from the Marketplace and other aspects of the ACA. During the first open enrollment period, which ended in April of this year, 734,000 Texans signed up for coverage through the federal health care marketplace. Eighty-four percent of those Texans received financial assistance to make their insurance policies more affordable.
More Texans will enjoy the health protections and financial stability of insurance if Texas leaders commit to public outreach regarding these new health coverage options. Key points to share with your constituents include the following:
- The next open enrollment period for the Marketplace will run from November 15, 2014 to February 15, 2015.
- Texans can obtain insurance through the Marketplace outside of the open enrollment period if they change jobs, have a baby, get married, or experience another event that qualifies for a Special Enrollment Period.
- Eligible children and pregnant women can sign up for insurance through the Children's Health Insurance Program (CHIP) or Medicaid at any time.
- Most Texans who purchase coverage through the Marketplace will qualify for financial assistance to make their insurance more affordable.
- Texans can access the Marketplace by visiting healthcare.gov or calling 1-800-318-2596.
- In-person assistance with enrollment is available in all major metro areas, and in many smaller cities and rural communities as well. Additional information is available to constituents through getcoveredamerica.org.
- Texas workers who do not receive insurance from their employers and have an annual income below $24,000 for a family of four still do not have any affordable insurance options. They are not eligible for premium subsidies through the Marketplace and the legislature has not developed a Texas plan to accept federal Medicaid funding for low-wage adults. These workers should contact their local clinics and county indigent programs to find out if they qualify for services.
We appreciate your consideration and any steps you can take to inform your constituents about their health insurance options.
Sincerely,
Simone Nichols-Segers
Government Activism Coordinator
National MS Society
Eileen Garcia
Chief Executive Officer
​Texans Care for Children
Blake Hutson
Senior Associate, Health Reform
Consumers Union
Laura Guerra-Cardus, M.D.
Associate Director
Children's Defense Fund-Texas
Bee Moorhead
Executive Director
Texas Interfaith Center for Public Policy/Texas Impact
Sara E. Smith, JD
State Director
Texas Public Interest Research Group
José Eduardo Sánchez
Acting Southern Director
Young Invincibles
Tod Marvin
President & CEO
Easter Seals Central Texas
Anne Dunkelberg
Associate Director
Center for Public Policy Priorities
Lucy Ramirez
Chief Executive Officer
Nuestra Clinica del Valle, Inc.
Sonia Troche, MBA
Texas Regional Director
National Council of La Raza
Miriam Nisenbaum
Executive Director
National Association of Social Workers – Texas Chapter
Ana R. DeFrates
Director, Texas Latina Advocacy Network (LAN) Policy & Advocacy
National Latina Institute for Reproductive Health

Phillip Martin
Deputy Director
Texas Research Institute
Ann Williams Cass
Executive Director
Proyecto Azteca
Liz James
Chief Executive Officer
Lesbian Health Initiative of Houston, Inc. (LHI)
Phylis Peters
Director
Proyecto Juan Diego
Ginny Goldman
Executive Director
Texas Organizing Project
Katy Caldwell
Executive Director
Legacy Community Health Services
It was a busy day for health care in a couple courtrooms today.
But Texans can rest assured that financial assistance is still available for the insurance they bought on healthcare.gov; their insurance hasn't been affected; and financial help should still be available to buy insurance when open enrollment for healthcare.gov starts again on November 15th.
So what happened?
Today the D.C. Circuit Court of Appeals ruled that the Affordable Care Act (ACA) does not authorize the financial subsidies that consumers have used to buy health insurance on healthcare.gov in Texas and other states that did not set up their own online health insurance marketplaces.
A couple hours later, the 4th Circuit Court of Appeals contradicted the earlier ruling by concluding in a separate case that the subsidies are perfectly legal.
The ACA, the health insurance that over 700,000 Texans bought through the federal Marketplace, and those financial subsidies all remain untouched as the case works its way through the appeals process.
Most observers expect the subsidies will be upheld as the case moves forward.
You can follow the blow-by-blow here.
And if you're thinking about getting health insurance on healthcare.gov when open enrollment starts again in November, you can calculate here just how much financial assistance you can receive to make sure your insurance policy is affordable.
 Written by Peter Clark, Texans Care for Children.
Just weeks away from the March 31 closing of the Affordable Care Act's (ACA) open enrollment period for 2014, thoughts are turning to how to help the folks who will remain uninsured.  The open enrollment process has brought home to low-income Texans—and the community groups and health care providers helping them to apply—the stark reality of the Coverage Gap: the lack of an affordable coverage option for an estimated one-million-plus working-age, US citizen Texans living below the poverty line, both with and without dependent children.
As of today, 25 states are moving ahead with the ACA's Medicaid Expansion or a state-customized alternative. Of those, 22 are using Managed Care to deliver coverage, which requires no special "waiver" approval from federal Medicaid officials.  Another three (AR, IA, MI) are closing their Coverage Gaps with managed care plus "1115 waivers," special agreements with the federal Medicaid agency that can allow states to test out new approaches.
One more state, PA (the 26th state), recently submitted its formal 1115 waiver request to close the Coverage Gap, and negotiations will follow.
NH, UT and VA (that would make 29) are all in legislative processes around closing the Gap.  The NH Senate approved a bill to pursue a Medicaid Managed Care-1115 waiver approach and sent it on to a supportive House.
Both UT and VA adjourned their legislatures without completing the Coverage Gap conversation, but their Governors have signaled they will call special sessions to work on the issue.
Looking further ahead, ME, IN, and OK are all looking at the upcoming end dates/renewals of their Medicaid 1115 waivers, and discussions around how to maintain the successes gained from these waivers are expected to also involve consideration of Coverage Gap solutions.
Common themes: what has been approved? 
When tracking state's Coverage Gap proposals, be sure to notice whether or not a proposed state variation has received federal approval.  For example, several states have expressed interest in requiring premiums for folks below the poverty line, but so far only premiums for individuals above poverty have gained federal approval.  Pennsylvania's Governor originally proposed making new adult coverage conditional on participation in a job search, training and employment program, but has now altered his 1115 waiver request to include a "voluntary, 1-year, incentive-based pilot." Neither the new optional work program nor his proposal to eliminate some Medicaid benefits for the current Medicaid population has yet been approved by the federal government.
As noted, most states are maximizing the use of HMO-style managed care, as many states now have "mature" Medicaid Managed Care sectors with the capacity to serve more adults. Arkansas got permission to enroll all of its adult expansion group in Marketplace coverage, because managed care markets were not well established for either Medicaid or private commercial insurance.  In contrast, in Texas and PA three out of four insurers who sell insurance in the new Marketplace also already have Medicaid-CHIP health plans.  Some states are seeking a combination of Medicaid Managed Care and Marketplace coverage, e.g. using Medicaid Managed Care for people below poverty and Marketplace coverage for adults from 100-138% of the federal poverty line (FPL).
Newly-covered adults can be provided a commercial-style benefit package rather than the traditional Medicaid benefit package which includes long term care.  Medicaid "alternative benefit plans" (i.e. commercial-style benchmark plans) and Marketplace plans both include the ten essential health benefits and are subject to mental health and substance abuse parity, so both provide a good standard of basic coverage.
States using the commercial-style benefits for newly-covered adults must also determine how to ensure access to federally qualified health centers, family planning providers, non-emergency medical transportation, and comprehensive care for youth ages 19 and 20.  Approved variations include Iowa's waiver to experiment for a year with whether and how non-emergency medical transportation is provided to the newly-covered adults.
Also, states must screen for "medically frail" persons in the newly-covered adult population, to make sure those with complex medical needs retain access to traditional Medicaid benefits.
Cost-sharing for the newly-covered adults is allowed, with the majority of states following federal law and rules that exempt children and pregnant women, and set upper limits based on income-to-poverty levels. Waivers experiment with new approaches outside of the basic federal rules, including modest premiums and $10 co-pays for non-emergency ER visits, mostly targeted to the new adults who are above the poverty line.  Protections that mirror those in the Marketplace cap premiums at 2% of family income, and total combined costs at 5% of family income, consistent with federal standards.  Both MI and PA are looking at reducing out-of-pocket costs for enrollees who get check-ups or meet other wellness goals.
Flexibility—Within Limits. 
Flexibility is available to state and federal Medicaid officials, but it is not unlimited.  The part of the Social Security Act that allows 1115 waivers requires that exceptions to federal law under a waiver must "further the objectives" of the federal Medicaid law.  Some of the requests that have been turned down to date include reducing benefits for the traditional Medicaid population (as opposed to the newly covered adults). Moreover, in order to capture the 100% federal matching funds available through 2016, states may not cap enrollment and must cover the full adult coverage expansion income range (up to 138% of the FPL), not just stopping at the poverty line.
How to Keep Up?
As noted above, the landscape is changing every day. One of the most reliable and timely sources of waiver and Medicaid Expansion news is the Georgetown University Center for Children & Families "Say AAh" blog. The Kaiser Family Foundation follows waiver developments and keeps an updated tally of state actions, and this report from the Center for Health Care Strategies summarizes key recent developments in AR, IA, and MI.
Keep following the CPPP and Texas Well and Healthy blogs, too, and for a deeper dive, you can get involved in closing the Texas Coverage Gap through the Cover Texas Now coalition's Texas Left Me Out campaign.
It's thrilling to know over seven million people enrolled for health coverage by the March 31st deadline and will now have access
to quality, affordable health care. If you happen to not be one of the millions of people with a newly purchased plan, all hope is not lost. Here are a few ways you can still enroll in coverage:
If you began enrolling in the Marketplace before the March 31st deadline, but weren't able to complete the application because of issues with the website, overwhelmed phone lines, or other technical issues, you have until April 15th to enroll. Visit Healthcare.gov or call 1-800-318-2596 for assistance.
If you qualify for a Special Enrollment Period you may be eligible to enroll in coverage. Call 1-800-318-2596 for assistance. Here are some examples of circumstances that would make you eligible to sign up for coverage outside of open enrollment:

A qualifying life event, which includes:

Loss of other health coverage
Change in your family size like having a baby or getting married.  Note that getting pregnant does NOT qualify you for a special enrollment period
Moving to a different state

Special circumstances or complex cases, which include:

An exceptional circumstance, such as a serious medical condition or natural disaster that prevented you from enrolling
Other examples include misinformation, victims of domestic abuse, system errors, and more. View a more comprehensive list  of special circumstances that may qualify for a special enrollment period here.
If none of these options apply to you, the next open enrollment period starts November 15th.
The Supreme Court will hear arguments Tuesday on a lawsuit involving women's preventive health care benefits guaranteed by the Affordable Care Act (aka Obamacare).  At issue is whether for-profit employers can opt out of covering contraception in their health insurance plans  if the business owner has a religious objection to birth control.  The ACA requires most health insurance to cover a full range of cost-effective and proven preventive health care services, including but not limited to, contraception.  The ACA already exempts religious employers, like churches, from the contraception requirement.
Polling finds that a majority of Americans believe that employers should not be able to opt out of including contraceptive benefits in health insurance plans.  Birth control is one of the most-used preventive health services among women.  Insurance coverage for it should be standard issue, just as recommended preventive care services for children and men are included in insurance plans.
Making sure all women have access to the tools they need to plan the timing and size of their families is a critical piece of the puzzle in building equal economic opportunity for Texans who aspire to overcome poverty, join the middle class, and enjoy prosperity.  Birth control is also critical for improving public health. Women's preventive health care—including birth control—helps women stay healthy, have healthy pregnancies, and avoid unplanned pregnancy. Today, over half of Texas births are unplanned. When women lack the tools to plan and space their pregnancies, babies face higher risks of prematurity and low birth weight.
Despite popular misconceptions about the low cost of contraception, many women struggle to afford birth control. The most effective forms of birth control, like IUDs, have up-front costs of up to $1,000 and some birth control pills can cost $60 a month.  And even more affordable generic birth control pills require regular doctors' office visits.  The cost of contraceptives prevents many women, especially low-income women, from using birth control consistently or choosing the best and most effective form of contraceptive for them.  The ACA's guarantees that contraception: (1) will be covered by most health insurance, and (2) will not be subject to a copayment or a deductible, mean more women will have financial access to the tools needed to prevent unintended pregnancies and have healthier pregnancies.
The women's preventive health care benefits under the ACA took effect in August 2012.  Since then more than 1.9 million (and counting) women in Texas have been guaranteed access to birth control coverage in their health insurance plan without an additional out-of-pocket expense.  This increased access to basic preventive health care supports women's health, the health of babies, and family economic security.
Written by Stacey Pogue, Center for Public Policy Priorities. Cross-posted from Better Texas blog.
The Texas Department of Insurance recently finalized rules that require "navigators" to register with the state and take additional training. CPPP chronicled the changes made in the final rule and questions moving forward in a new policy page.
Navigators under the Affordable Care Act are organizations and individuals who are trained, certified, and funded by the federal government to help people enroll in coverage options through the Health Insurance Marketplace, including private insurance, Medicaid and CHIP. Insurance is difficult to understand, especially for people who haven't had it before. Navigators provide in-person help—answering questions, deciphering plan options, and helping people enroll. Their help is crucial in a place like Texas, with more than 6 million uninsured individuals.
Changes in the Final Rule
The proposed rules for navigators proved contentious. Advocates raised concerns that the proposal would be expensive and prevent navigators from helping consumers compare the benefits of different plans in the Health Insurance Marketplace. The Texas Department of Insurance (TDI) held two public hearings on the rules and sifted through nearly 300 pages of comments. In the end, the final rule was much improved, but the aggressive timelines in the final rule present challenges for navigators and TDI alike. TDI removed the prohibition related to comparing benefits, took steps to reduce the cost of training, and clarified limits on the use of the term "navigator" (people who serve as patient navigators or cancer navigators will still be able to use the word "navigator" in their job titles without running afoul of the law).
The rule, which took effect on February 10, requires many organizations and individuals who help consumers apply for or enroll in coverage through the Marketplace to:
Complete registration with the Texas Department of Insurance by March 1. Navigators will undergo fingerprinting and a background check as part of registration.
Take 20 hours of state mandated training by May 1, 2014. This extra state training is required on top of the 20-30 hours of federal training provided to federally grant-funded navigators
Certified Application Counselors are exempt from the new rule, as are organizations and individuals who are performing application assistance under state law or federal law, other than the Affordable Care Act. The flowchart on page 6 of our report can help organizations and individuals who provide application and enrollment assistance determine whether and how they are subject to the new rule.
Update on Registration
Both navigators and the Texas Department of Insurance have been working diligently to ensure navigators come into compliance according to the rule's very tight timeline. Some navigators reported initial challenges accessing the state's electronic fingerprinting process. But leading up to March 1, all federally grant-funded navigator organizations report having submitted their organization's registration materials and registration materials for most or all individual navigators as well. TDI reports quick turnaround times when processing complete applications, and TDI staff worked over the weekend of March 1-2, to help ensure applications submitted near the deadline were not held up.
Next Hurdle
TDI's rule leaves it up to private vendors or navigators themselves to create, get certified through TDI, and deliver training to navigators statewide. The next challenge will be ensuring that training is available to and completed by navigators across the state by May 1, 2014.
Written by Stacey Pogue, Center for Public Policy Priorities. Cross-posted from Better Texas blog.