Updated: Flood of Editorials Calling on Lege to Close Coverage Gap
January update: The Corpus Christi Caller-Times, Longview News-Journal, and Waco Tribune have now called for a solution as well.
In just the last few weeks, there's been a flood of editorials calling on state leaders to accept our share of new Medicaid funding to close the coverage gap.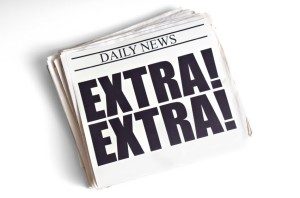 Over a million Texans don't get insurance at work and don't have incomes high enough to qualify for financial assistance on healthcare.gov. Texas leaders have not accepted the Medicaid expansion that was intended to cover these child care teachers, cooks, home health aides, sales associates, and other workers who earn less than $24,000 annually for a family of four.
Since the November election, editorial boards for the Dallas Morning News, Fort Worth Star-Telegram, Houston Chronicle, Mount Pleasant Daily Tribune, and the San Antonio Express-News have all called on state leaders to take action to close this Coverage Gap.
They join other papers, such as the Beaumont Enterprise and Austin American-Statesman, that previously called for either Medicaid expansion or an alternative Texas plan.
The Morning News editorial highlights the recent announcements of business leaders and other groups calling for a solution:
In recent days, the Texas Hospital Association and the Texas Medical Association, the physicians group, have called for new, Texas-style approaches to insuring the working poor. So has an advisory group appointed by Gov. Rick Perry, the Texas Institute of Health Care Quality and Efficiency, a 15-member panel of providers and executives. They join chambers of commerce, the Texas Association of Business and the Dallas Citizens Council in advocating for federal money.
The Dallas editorial board also explained how the current high number of uninsured Texans is shifting costs to taxpayers and Texans with insurance:
Lawmakers who lack a sense of urgency might ask Dallas County homeowners for a look at a property tax bill from the county hospital district. It's no minor tax bite for residents and businesses, owing to the care that Parkland Memorial Hospital is obligated to provide uninsured people.
The Parkland system reported nearly $1.5 billion in uncompensated care last year. Who backfills that cost? Not the federal government, because state leaders won't play ball. That means property owners get stuck with the tab.
Insured Texans also subsidize uncompensated care through higher insurance premiums. The hospital association estimates that the average family medical policy is inflated by $1,800 a year to offset the cost of the uninsured.
The San Antonio editorial board called for a straight expansion of traditional Medicaid but said they're open to considering alternative plans that use the new federal funds to help uninsured Texans buy private insurance:
Yet, if this is the best that Texas can accomplish given the political realities imposed by ideologically obdurate political leaders, we'll take it — provided the cost-sharing formula and other requirements for plan participants are reasonable.
As Texas leaders in health care, business, media, and local government call for a health coverage solution, it's time for leaders in state government to get to work.