Press Release: Report Finds 100,000 Fewer Texas Kids Uninsured, but State Still in Dead Heat for Last in the Nation
CHIP, Medicaid & Upcoming Marketplace Enrollment Provide Opportunities for More Coverage, But Kids Also Need Texas to Ensure Their Parents Have a Coverage Option
For Immediate Release
Contact: Oliver Bernstein, 512-289-8618
October 28, 2015
Austin – The number of Texas children who are uninsured declined last year, but the state is in a dead heat with Alaska for the highest rate of uninsured children in the nation, according to a report released today. The report by Georgetown University's Center for Children and Families, released in collaboration with the Texas Well and Healthy coalition, found that between 2013 and 2014, the uninsured rate for Texas children declined from 12.6 percent to 11 percent, falling from an estimated 888,305 uninsured children to 783,938.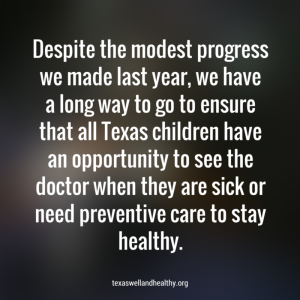 The report partly attributes the declining uninsured rate to the success of the state's Children's Health Insurance Program (CHIP) and Medicaid program. Low- and middle-income families can enroll their children in the state's two health insurance programs anytime during the year.
The authors also note that implementation of major provisions of the Affordable Care Act improved children's access to insurance. Parents whose uninsured children do not qualify for CHIP or Medicaid can obtain insurance for them or the whole family on the Health Insurance Marketplace during open enrollment, which begins on November 1, 2015 and ends on January 31, 2016.
"We're glad to see that more Texas children have the care they need to stay healthy, make it to school every day, and succeed in and out of the classroom," said Anne Dunkelberg, Associate Director at the Center for Public Policy Priorities (CPPP). "Despite the modest progress we made last year, however, we have a long way to go to ensure that all Texas children have an opportunity to see the doctor when they are sick or need preventive care to stay healthy."
One of the reasons so many Texas children are still uninsured is that the Governor and Legislature have not accepted the federal health care funds intended to cover low-wage workers who do not have an affordable insurance option. The new report finds that states with Medicaid Expansion or an 1115 waiver expansion saw almost double the drop in uninsured children compared to states like Texas with a Coverage Gap. Approximately one million Texans, with jobs ranging from child care teacher to sales clerk to cook, do not quality for any insurance programs, receive insurance from their employers, nor earn an income that is high enough to purchase private insurance.
Providing low-wage parents with an insurance option would increase children's coverage through the "welcome mat" effect, through which parents are more likely to know about existing children's insurance options when they have an option for themselves. Extending coverage to low-income parents also helps children by boosting families' financial security and improving parents' health, according to researchers. Business, medical, and faith leaders across Texas have urged state leaders to develop a plan to accept federal funding and ensure low-wage workers have an insurance option.
"Offering Medicaid coverage to more uninsured parents will help reduce the number of uninsured children in Texas," said Joan Alker, executive director of the Georgetown University Center for Children and Families. "Children thrive when their parents are healthy and economically secure, so improvements in health coverage for parents benefits the whole family."
Families who would like help enrolling their children in CHIP or Medicaid should call 2-1-1 or visit chipmedicaid.org anytime. Texans who would like to obtain insurance through the Health Insurance Marketplace during the November 1, 2015 to January 31, 2016 open enrollment period can sign up at healthcare.gov, call 1-800-318-2596, or find one-on-one in-person assistance in their community at getcoveredamerica.org/connector/.
Texas Well and Healthy is composed of the Center for Public Policy Priorities, the Children's Defense Fund-Texas, Engage Texas, and Texans Care for Children.
###